posted by

eve_k
at 06:54pm on 22/08/2014 under
fangirling fangirl
,
gotham adventures
,
rear mirror reviews
Gotham Adventures #9 "A League of His Own"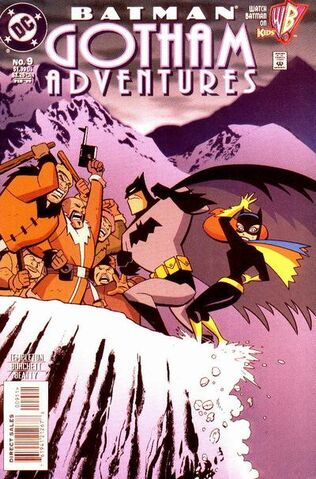 This is a story that impressed me very much for the way it handles the problem of firearms.
We know Batman won´t touch them - for personal reasons - but he also discourages his allies from carrying them, and here we see why.
The story starts with Bruce and Barbara in the Tibetan Himalayas, searching for the hideout of the Sensei. They are attacked by their guides (Tibetan freedom fighters - what??) who get away with their equipment but leave behind a pistol. Barbara admits to being scared to walk into the headquarters of the League of Assassins and that she is taking the gun with her. Batman tells her to get rid of it repeatedly, but Barbara refuses to give up the seeming advantage.
Surprisingly, the alleged headquarters are the luxurious private home of the Sensei, and the old man has an important guest... Batman and Batgirl are spotted on arrival and Batman is severely beaten up by the Sensei. Just before he can deliver the fatal blow, Batgirl draws the weapon. Sensei has no trouble at all turning the weapon in Barabara´s hand into her greatest weakness. It is so simple and and logical and delivers the point to the audience so well - brilliant!
I think you can guess who the mystery guest the Sensei was entertaining is:
it´s Ra´s al Ghul!
He intervenes in the fight between the Bats and the old man and orders Sensei to surrender. He hints at having "... important plans that require Bruce Wayne to remain alive". Sensei, however, chooses to withdraw instead in a rather final fashion. Or so it seems.
There are no comments on this entry. (
Reply
.)