posted by

eve_k
at 11:55pm on 24/08/2014 under
fangirling fangirl
,
gotham adventures
,
rear mirror reviews
Gotham Adventures #10 "Mightier than the Sword"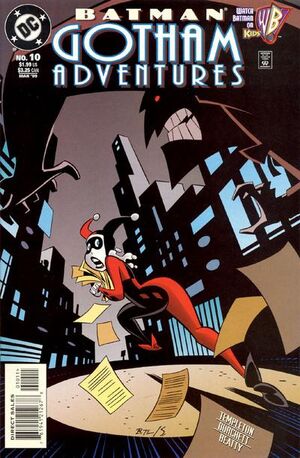 BTAS Harley was a wonderful character, of course she was presented as a psychopath, but underneath the mania there were so many authentic feelings that I always felt she was the most flesh and blood character in the show.
The Harley and Joker relationship is disturbing, a lot of "funny" stories are if you translate them into reality. In this one I was really impressed how towards the end, from page 20 onwards, the comedy comes to a stop. Harley´s tears and her moment of truth are truly touching. Her righteous anger even overshadows Joker´s clownerie. All of a sudden it sinks in that an abusive relationship is not funny, and I find myself almost hoping she´s over it. Until the last panel, which takes you right back into toonland.
There were a few names dropped in the issue, like Salman Rushdie and Gertrude Stein, so I wondered if Elise Archer was a reference to a real person too. Seems like this time reality imitates fiction!
http://tytempletonart.wordpress.com/tag/elise-archer/
Gotham Adventures #11 " The Oldest One in the Book"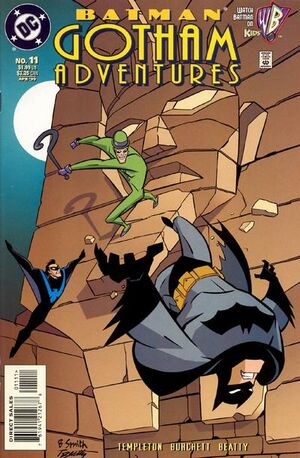 Riddler has escaped Arkham! But this time, he´s not letting Batman catch him, he´s not crazy, is he?
His first move is to force Gotham entrepreneur Charles Baxter into letting him stay in the penthouse suite of Baxter´s new hotel, the Cleopatra. From there, the plan is to provide Gordon and Batman with clues to the whereabouts of other criminals. This way, he thinks, he can match wits with his caped nemesis but stay out of his grasp. In the course of the story we see Batman and Nightwing do quite a bit of nifty combination work on Riddler´s riddles, even Gordon is impressed enough to say so.
What is really impressive though, is that Batman sees clues that Riddler never intended to be there (and some that weren´t even there at all!), and while the poor delusional fool still thinks he can pull Batman´s strings, he has already tied himself up in his own.
Like Harley in the issue before, Eddie has a moment of insight in the end. Poor crazy Riddler.
There are no comments on this entry. (
Reply
.)